Jurassic World: Dominion Dominates Fandom Wikis - The Loop
Play Sound
Dark Bramble is a large, confusing network of twisted vines and teleportation passages, the imploded remnants of a fifth planet that has long since been infected and overrun by space-bending plant growth. It is the only planet to feature hostile wildlife in the form of Anglerfish.
Exterior
[
]
The exterior of Dark Bramble consists of an enormous seed covered with numerous glowing openings, caked in a layer of thick fog. Thick vines branch off from the seed core, connected to imploded fragments of an ice crust - the now-frozen remnants of the unnamed water planet.
The interior can be accessed by entering the openings within the seed at its core, which lead to a corresponding entrance in the Hub Node.
Hidden in a large fragment of crust on Dark Bramble's South Pole, the Frozen Jellyfish found by Feldspar, and the vine used to reach it, can be found, embedded within a crack.
Interior
[
]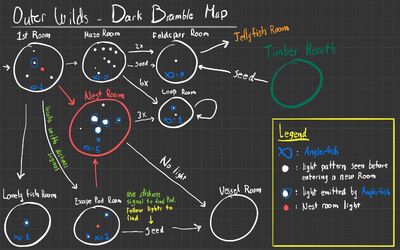 The interior of Dark Bramble possesses unique and eerie space-bending properties, containing huge, expansive spaces within its structure far larger than its exterior would indicate.
Dark Bramble has eight such unique interior "nodes", interconnected by a network of seeds that act as "portals" between them. Each node is an enormously vast enclosed zero-gravity space, generally filled with long winding vines and a thick fog that heavily impairs vision.
Seeds in Dark Bramble act as the links between nodes. Seeds generally emit light, which is visible through the fog and act as important guides through the interior space.
Seeds come in two varieties - a larger, fully grown seed with openings large enough for a spaceship to enter, and a much smaller seed, with an opening only wide enough for a Scout to pass through.
When travelling through a seed, one will enter the node within at a reduced speed and fixed direction, regardless of their inbound angle. Should one return through a node's entrance (embedded in the walls of the current node), they will find themselves returned to the exterior of the planet.
Signals from objects in the spaces within seeds can be detected, allowing use of the Signalscope and Scout to pinpoint the correct seeds to enter. Duplicate signals may result due to multiple seeds and openings leading to the same node.
Dark Bramble is inhabited by a collection of hostile Anglerfish - a colossal race of predatory fish capable of consuming entire spaceships, that use light lures identical to the light of a Dark Bramble Seed. One must be wary as to whether a light in the distance is that of a Seed or a waiting Anglerfish.
Anglerfish are blind, relying on sound to hunt their prey. Within nodes, Anglerfish are generally inactive and still, remaining where they are until awakened by passing sound. Using thrusters of any kind or launching probes too close to an Anglerfish will draw their ire, and further aggravation will enrage them, charging faster than a spaceship can accelerate to consume the noise source.
Hub Node
[
]
The Hub Node is the first chamber of Dark Bramble and the most connected node. It contains a single Anglerfish waiting near the center of the chamber, and four seeds leading to the Nest, the Escape Pod Node, the Dead End Node, and Feldspar's Maze.
Dead End Node
[
]
The Dead End Node is a chamber that contains no seeds and a single Anglerfish. The only method of exit is the opening used as the entrance to the node.
Escape Pod Node
[
]
The Escape Pod Node is the location of the lost Nomai Escape Pod 3, with the seed leading to this node emitting the Distress Signal. This node contains two Anglerfish and a seed leading to the Nest, as well as fragments of broken ice crust. Escape Pod 3 is embedded in a thicket of vines not visible through the fog.
A trail of Nomai lights beginning at the Escape Pod leads to the Nomai Grave - a hidden small seed, emitting no light, leading to the Vessel Node, surrounded by the suffocated corpses of the inhabitants of Escape Pod 3 and their final messages. The seed is only large enough for a Scout to enter.
Feldspar's Maze Node
[
]
Feldspar's Maze Node is a node with nine distinct seeds and no Anglerfish, that emits Feldspar's harmonica music. Six seeds lead to the Recursion Node, with only three leading to Feldspar's camp and emitting their music. However, only two of the three seeds is large enough to admit a ship, with the third being a small seed only able to admit a Scout.
Recursion Node
[
]
The Recursion Node is similar to the Dead End Node, containing a single Anglerfish, except it has a single seed that connects to itself - with flying into the seed only producing an infinite loop. It can only be exited by leaving through the entrance.
Feldspar's Camp Node
[
]
Feldspar's Camp Node is a node with no Anglerfish, where Feldspar has set up camp. Seeds leading here, including the Dark Bramble Seed on Timber Hearth, emit Feldspar's harmonica music on the Outer Wilds Ventures frequency. Feldspar's camp is found in an Anglerfish skeleton, its light lure still functioning. The skeleton itself contains a small Dark Bramble Seed (the Anglerfish having swallowed it and dying after the seed grew too large) that leads to itself, acting as a showcase of Dark Bramble's signal duplication properties.
At Feldspar's direction, their damaged ship can be found (emitting a dim light) near a hollow vine behind the skeleton. The hollow vine leads to the exterior of Dark Bramble, in the hidden section of crust where the Frozen Jellyfish can be found.
Nest Node
[
]
The Nest is the largest and most dangerous node. The seeds leading into The Nest glow a bright red, due to the red glow from the Anglerfish eggs found at the center of the chamber. The node is guarded by five anglerfish, three of which are always waiting at the entrance of the node.
The room contains four seeds, with three leading into the Recursion Node and one leading to the Vessel Node. However, the Vessel node is hidden among the vines and does not emit light.
Vessel Node
[
]
The Vessel Node features the final resting place of the Nomai's spaceship that brought them to the Solar System, containing no anglerfish. The Vessel resides in the center of the node, entangled in a thicket of vines. Seeds leading to this node emit no light, requiring other methods of discovering their locations, and Dark Bramble's signal duplication phenomenon.
The seed leading to its location can be reliably found by following Escape Pod 3's trail to the Nomai Grave, and firing a Scout into the small seed. The duplicate Scout signal reveals its seed's location within the Nest.
Points of Interest
[
]
Feldspar, the lost member of Outer Wilds Ventures, is located deep within Dark Bramble and can be found by either following their harmonica with the signalscope or launching a probe into the seed on Timber Hearth and following the scout's location.
Located slightly further than Feldspar is a hollow vine leading to a hidden crack in Dark Bramble's exterior crust fragments. Asking Feldspar how to reach the core of Giant's Deep will direct the player to a Frozen Jellyfish, embedded in the ice. The Frozen Jellyfish, and Feldspar's notes regarding it, hints at how to access the core of Giant's Deep.
While Escape Pods 1 and 2 successfully fled Dark Bramble, Escape Pod 3 was not as lucky and never managed to escape. Escape Pod 3 is found deep within Dark Bramble by using the Signalscope.
Located very deep within Dark Bramble is the origin point for the Nomai in the Solar System; their Vessel. The Vessel is an ancient Nomai spaceship that was damaged and evacuted shortly after the Nomai's arrival in the Solar System. It can be located by following the light trail from Escape Pod 3 to the Bramble Seed, shooting a probe through it, and following the probe's location.
Texts and recordings
[
]
Escape Pod 3

[

]

Escape Pod flightlog

BEGIN FLIGHTLOG: Escape Pod 3. Vessel has been mortally injured. Emergency sequence activated. Awaiting departure from Vessel.

Now launching Escape Pod 3.

ALERT: Multiple collisions have altered pod's trajectory. Significant damage to pod detected.

WARNING: Navigation error. Life support error. Propulsion error.

Scanning external environment... Scan complete. Gravity not detected. Breathable air not detected. Multiple lifeforms detected (potentially hostile). Verdict: DO NOT EXIT POD.

Out of air recording

SECCA: Our escape pod crashed as we tried to flee this place, destroying our movement and communication capabilities in the process.

SECCA: We've held out as long as we could here, but this pod's supply of breathable air is nearly depleted, and the anglerfish attack more and more frequently.

SECCA: Our best chance at survival is to return to the Vessel to either repair the damage or, more probably, await rescue.

ESCALL: Secca, is the message finished? The Vessel's beacon is already growing fainter; it will be gone in a matter of hours. We need to leave here, quickly.

Leaving the escape pod

DIN: There is a new problem: Our equipment is detecting two distinct beacons from the Vessel.

SECCA: But it isn't possible for the Vessel to be in two different locations at the same time.

DIN: I agree, but the beacons are exactly identical to each other. Perhaps if I had more time —

SECCA: We're nearly out of time already, Din; the Vessel's beacon is quickly fading. Soon, it will be gone, and we will be lost.

ESCALL: We will follow the beacon whose source is nearest to us.

DIN: But suppose that beacon is false!

ESCALL: We likely don't have enough air to reach the farther of the two beacons, Din. The decision is made for us.

ESCALL: We'll leave a trail of lights as we go. There's still a chance someone could hear our escape pod's distress signal.
Feldspar's camp

[

]

Outside jellyfish

Trip 4(?), entry #... I'm gonna say "not 1."

Crashes: 3

Boring crashes: 0 (a personal best!)

Whoa ho! Never thought I'd see one of these beasties outside of Giant's Deep! They were awfully useful back there — maybe a jellyfish could be useful here, too?

BLEARGH. This thing tastes terrible! The outside is all rubbery and tough -- maybe that's because it insulates the jellyfish's insides from getting zapped by electricity?

Right, I'm going inside of this jellyfish's interior cavity to see if what's in there tastes any better.

Inside jellyfish

Note to Feldspar: DO NOT EAT THIS EVEN IF YOU ARE DYING. It would be too sad if this were the last thing you ever ate in this life.

I guess these jellyfish are only useful for insulation from electricity. Again, DO NOT EAT. (Love, Feldspar)
Nomai Grave
[
]
SECCA: To any who come here searching for us: We followed one of the two beacons from the Vessel to this place, but now can go no further.
SECCA: It's almost too faint to hear now, but the Vessel's beacon is still faintly emitting from within this thorny seed. Yet the opening is too small for even a single Nomai to fit through it, so our escape pod couldn't have flown through here.
SECCA: I don't understand how this could be possible, but this gruesome place seems able to manipulate space itself; maybe this was our undoing.
SECCA: To be so close to the location of the Vessel and still so far is... difficult. Worse, the Vessel's beacon is dying; soon, we will be unable to hear it.
SECCA: There is nothing we can do now but try to perhaps find a way inside, or at least attempt to comprehend why this happened.
SECCA: My dearest hope is that the other escape pods were able to reach relative safety.
The Vessel

[

]

Eye signal encounter recording

FILIX: I'm recording now — I've never encountered anything like this! The signal the Vessel is receiving appears to be older than the universe itself!

ESCALL: This is our first contact with anything of this nature. Everyone, prepare to warp immediately!

FILIX: Escall, wait, I need more time to send an outgoing message! Shouldn't we tell another clan where we're going?

ESCALL: We can send the message upon our arrival. This extraordinary signal appeared suddenly; it may disappear just as quickly, and we can't lose a discovery this incredible! Focus on preparing for the warp, instead.

FILIX: I understand!

ESCALL: Annona, is the Vessel ready to warp to the signal's approximate coordinates?

ANNONA: The warp core is powered, but this will be a significant jump. Afterward, we'll need time to recharge the core.

ESCALL: That shouldn't create a problem, provided we arrive at or near the signal's source. Everyone, we're ready to warp!

Distress signal

FILIX: This is Escall's Vessel; something went badly wrong during our warp, and our Vessel is mortally wounded. We need help as quickly as possible!

FILIX: Our Vessel appears to have... has it fused with the local environment, somehow? There are vines that are now part of the Vessel! It's been torn apart from inside itself!

FILIX: We... we are abandoning our Vessel. Any Nomai clans or spaceflight-capable species receiving this message, I implore you, we need your help!

FILIX: Is this broken? Can anyone hear me? Our Vessel is dying! We need immediate assistance!

Modern Nomai inbound signals (these messages are responses to each other)

CANNA: To any Nomai clans whose Vessels can hear this message:

CANNA: It's clear the universe is dying. There are fewer and fewer resources and safe places within space now, so my clan and I believe the best option is for all of our clans to stay together.

CANNA: If you can reach the Gloaming Galaxy, we've found that Blackrock's suns are fairly stable, and life in this star system is (comparatively) thriving. We live in relative safety.

CANNA: If you prefer to continue exploring alone, know you will be on your own.

BROMI: Canna, we're making our way to you.

CANNA: It's good to hear from you, Bromi! We'll watch for your Vessel.

CANNA: Has anyone heard from Neem? His clan was on its way to our Vessel, but they never arrived, and he hasn't sent any messages. I'm beginning to worry.

BROMI: That is unsettling. It reminds me of that old myth my grandfather used to tell, the Disappearance of Escall.

CLEM: I remember hearing that story as a child! One day, Escall's Vessel simply stopped responding. The other clans searched and searched, but found no trace. It was as if their missing friends had warped out of existence.

HYSSOP: That's no myth, friends; Escall's clan existed, and their story was real.

BROMI: What a curious event to have passed into myth! Our ancestors' ancestors were told that story when they were young. Are you sure it's true, Hyssop?

HYSSOP: It was a very long time ago, but yes. My clan's ancestors searched for Escall's clan for a long time, but in the end, none of them were ever seen again. (It's the only time in our history a Vessel has ever disappeared this way.)

NEEM: Hyssop, I hope you aren't comparing Escall's story to my clan's Vessel!

CLEM: Neem, my friend! We feared you were gone!

NEEM: Not yet, we aren't, but nearly. We found trouble during our warp: The triple suns of the Bright Spark star system exploded, and it was only a lucky coincidence we weren't caught in the blast. We'll meet you soon, Canna!

CANNA: I'm relieved your clan is safe, Neem! It's good to hear your words. Any Vessels nearby, remember to be extremely cautious of potentially unstable stars (which is most of them, now).
Gallery
[
]
Location of The Vessel in the red bramble seed chamber